Description
Based on the same concept as mosaics or paint-by-numbers activities, diamond painting is a creative hobby that involves placing tiny colored "diamonds" on a printed image to create a mosaic painting.

Diamond painting provides a relaxing and meditative experience, as well as the satisfaction of creating a true work of art. Indeed, all kits offered on Oraloa are officially licensed with our various artists.

This kit allows you to create a canvas with bewitching colors. Give yourself a moment of relaxation with this simple and fun activity that frees the mind.


Please note:

The diamond painting is an unfinished product, it is an activity to do yourself, with friends or family, by sticking small "diamonds" on a canvas, the final result will be just extraordinary.

What does your kit contain?

Each kit comes with everything you need to get started!
Tool kit image non-contractual. Many variations on the contents of our tool kits can be supplied.
Nancy Fournier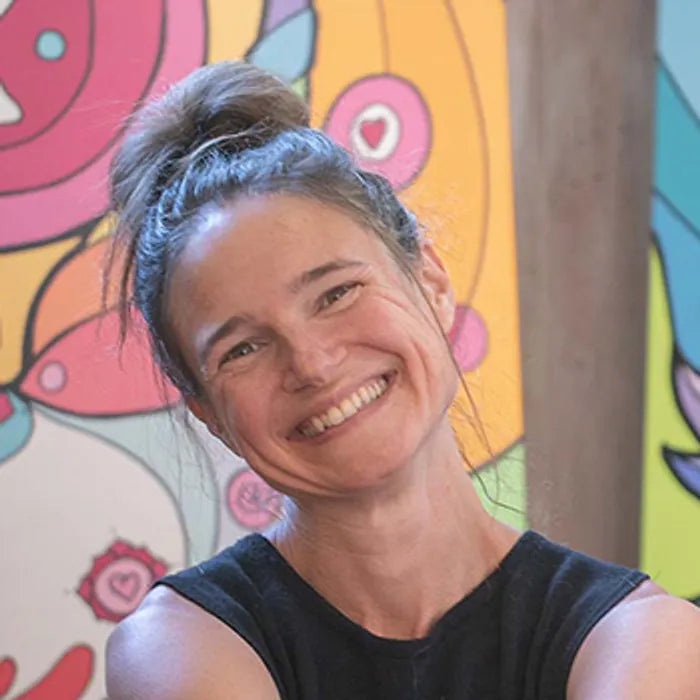 WHERE I COME FROM
I am a self-taught painter. I started painting in oils, exploring different techniques. Not finding what I was looking for, I continued to draw for my own pleasure and turned to graphic design for over 20 years, where I explored different visual styles. That's where my style emerged. This change led me to return to the country and devote my time to my family life.

WHAT INSPIRES ME
This other path allowed me to find a style of artistic expression that reflects my colorful, spontaneous and gentle side. Inspired by the animal kingdom and the human, I like to paint my subjects in a decor of movement and very colorful vegetation. A setting that amazes and transports you into a dream, through the magical universe that emerges. I wish to touch this spark of magic present in everyone.

WHAT I START WITH
My works follow these steps of realization: I begin by producing an automatic drawing, then I let myself be inspired by the range of colors to be used and finally, I finish by a black line with Indian ink.

ARTISTIC STYLE
My art oscillates between Pop Art, psychedelic and naive art. My works express Joy and awaken us to the Space of Emptiness through their bright colors applied in flat with acrylic paint. I believe that the black lines surrounding each shape create a distraction for the mind, which creates an inner calm. In my opinion, the black lines represent the 0.001%* of our material reality, while the solid colors are Space. We believe we are separate from Space when separation is only a tiny part of reality as we understand it.

CHARACTERISTICS
My works are distinguished by the absence of straight segments and the presence of continuous movement. They contain a multitude of forms, ranging from circles, many of which are concentric, to hearts and flowers that combine to form various mythical symbols.

* According to quantum physics our material reality represents only 0.001%, the 99.999% is the Space of the quantum vacuum, that is to say the unlimited.
View other works by the same artist
How to do Diamond Painting?
Become an artist step by step
Be sure to gradually peel off the protective film from the first work area. 
Locate the first symbol in the table you want to work on.

On the side of the canvas, look for the symbol and the corresponding number on the legend.
Identify the color-coded bag of diamonds. 
Gently press the tip of the stylus onto the wax. 
Place the diamond on the corresponding symbol on the canvas.