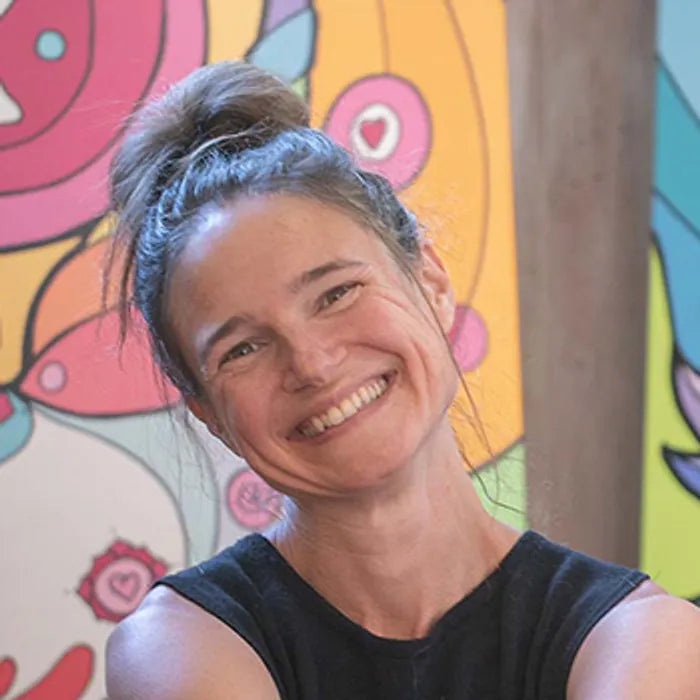 WHERE I COME FROM
I am a self-taught painter. I started painting in oils, exploring different techniques. Not finding what I was looking for, I continued to draw for my own pleasure and turned to graphic design for over 20 years, where I explored different visual styles. That's where my style emerged. This change led me to return to the country and devote my time to my family life.
WHAT INSPIRES ME
This other path allowed me to find a style of artistic expression that reflects my colorful, spontaneous and gentle side. Inspired by the animal kingdom and the human, I like to paint my subjects in a decor of movement and very colorful vegetation. A setting that amazes and transports you into a dream, through the magical universe that emerges. I wish to touch this spark of magic present in everyone.
WHAT I START WITH
My works follow these steps of realization: I begin by producing an automatic drawing, then I let myself be inspired by the range of colors to be used and finally, I finish by a black line with Indian ink.
ARTISTIC STYLE
My art oscillates between Pop Art, psychedelic and naive art. My works express Joy and awaken us to the Space of Emptiness through their bright colors applied in flat with acrylic paint. I believe that the black lines surrounding each shape create a distraction for the mind, which creates an inner calm. In my opinion, the black lines represent the 0.001%* of our material reality, while the solid colors are Space. We believe we are separate from Space when separation is only a tiny part of reality as we understand it.
CHARACTERISTICS
My works are distinguished by the absence of straight segments and the presence of continuous movement. They contain a multitude of forms, ranging from circles, many of which are concentric, to hearts and flowers that combine to form various mythical symbols.
* According to quantum physics our material reality represents only 0.001%, the 99.999% is the Space of the quantum vacuum, that is to say the unlimited.