Description
Stamped cross stitch kit Oraloa - 14 CT

Stamped cross stitch is a great way to develop your embroidery skills. It is also a great way to spend some creative and relaxing time, slowly working on an embroidery project that may become a treasured piece for you or a gift for someone else.

Remark:

Cross stitch is an unfinished product, it is a do-it-yourself activity, the final result will be just amazing.

What is in your kit?

Each kit comes with everything you need to get started!
Julie Courchesne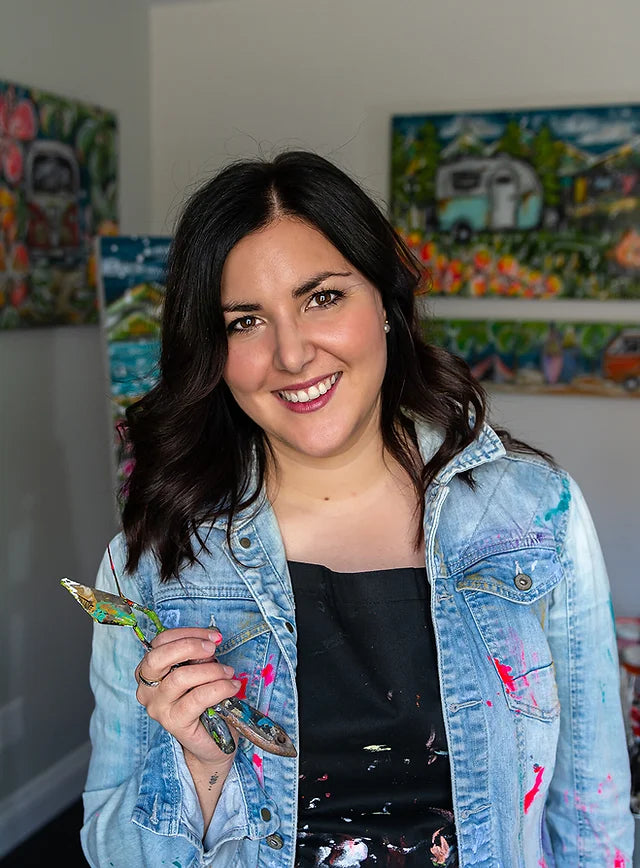 Julie Courchesne draws her inspiration from life's simple pleasures. She creates works that evoke the memory of an era and that make you smile. Moreover, the combination of drawing and painting brings a singular perspective to her paintings. All of her works have a light, sketchy feel to them and they come to life with vibrant colors and unique textures.

Art has been a part of Julie's life since she was a child and it was during her high school years that she took her first oil painting classes. With time and university studies, art and painting were temporarily put aside. However, as soon as she completed her courses she returned to her passion and explored a new medium, acrylics, which she still uses today.

For Julie, her real breakthrough came from a visit to an art gallery in Quebec City in 2013. She was immediately drawn to this artistic field. From then on, painting would take a very special place in her life. Since then, she uses a self-taught method and paints on a daily basis.

Julie is a passionate artist for whom a life without painting would be unimaginable, grey and empty. Art gives her a balance in her daily life and she uses this attachment to free her creativity and express her emotions. This flame, which art represents in her eyes, allows her to escape, to stop time and to live fully the present moment.
View other works by the same artist
How to make your cross-stitch?
Become an artist step by step
Choose the strands needed to complete your cross-stitch.

Locate the symbols on your canvas.
Find the corresponding numbers.

Choose the right color according to the legend.

Attach the end of your thread to the back of the canvas to ensure a good stability of your thread and stitches on the area to embroider and now chain your stitches.
All that's left to do is wash and iron your canvas and enjoy your art.