Description
Based on the same concept as mosaics or paint-by-numbers activities, diamond painting is a creative hobby that involves placing tiny colored "diamonds" on a printed image to create a mosaic painting.

Diamond painting provides a relaxing and meditative experience, as well as the satisfaction of creating a true work of art. Indeed, all kits offered on Oraloa are officially licensed with our various artists.

This kit allows you to create a canvas with bewitching colors. Give yourself a moment of relaxation with this simple and fun activity that frees the mind.


Please note:

The diamond painting is an unfinished product, it is an activity to do yourself, with friends or family, by sticking small "diamonds" on a canvas, the final result will be just extraordinary.

What does your kit contain?

Each kit comes with everything you need to get started!
Tool kit image non-contractual. Many variations on the contents of our tool kits can be supplied.
Misstigri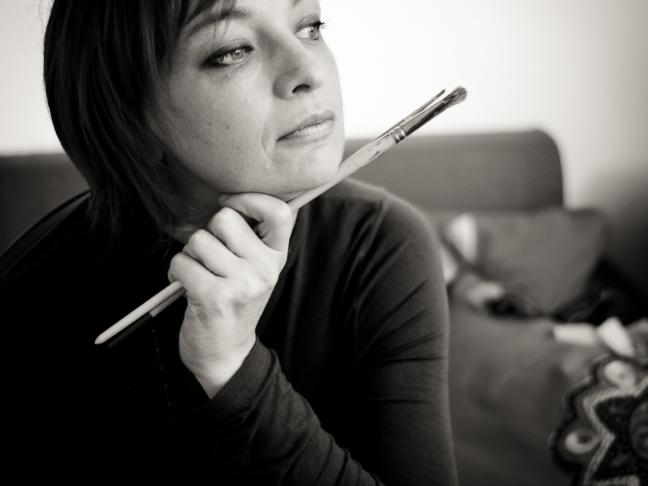 Valérie Moigne aka Misstigri is an independent artist based in Nantes, where she also runs a small boutique.
After a Bac F12 in applied arts and a BTS in interior architecture, she went on to study design at the Beaux-Arts. Despite an attempt at architecture, her passion for images took over and led her to set up as a freelance graphic designer in 2000. Her work being driven by the constraints of her clients, she sought an escape by starting to paint, giving birth to the female characters that would become her trademark "Les Misstinguettes".


Today, as a graphic designer, illustrator and painter, she draws her inspiration from painting, with influences such as Klimt, Mucha, Shiele and Pignon Ernest, as well as from comic strips (Bilal, Manara, Dautremer), fashion (Lacroix, Gaultier, Miyaké, etc.) and animated films (Burton, Miyazaki, etc.).


Her technique begins with a sketch, which she then reproduces on canvas. Like a schoolteacher, she builds up the outline of the drawing with chalk. She shapes, evens out and then erases with the back of her blouse anything that interferes with legibility... The base is in place.
Skin, clothes, hair, then coarse acrylic shading. Precise shadows, volumes and bold pastel shadows. A touch of precision for finishing touches with posca (gouache felt-tip) and 3D paint (tulip). If the damsel comes to life, she embellishes her toilette with feathers, lace or ribbons...


Today, she's a household name, considered a benchmark in her field by many ...
View other works by the same artist
How to do Diamond Painting?
Become an artist step by step
Be sure to gradually peel off the protective film from the first work area. 
Locate the first symbol in the table you want to work on.

On the side of the canvas, look for the symbol and the corresponding number on the legend.
Identify the color-coded bag of diamonds. 
Gently press the tip of the stylus onto the wax. 
Place the diamond on the corresponding symbol on the canvas.