Description
Based on the same concept as mosaics or paint-by-numbers activities, diamond painting is a creative hobby that involves placing tiny colored "diamonds" on a printed image to create a mosaic painting.
Diamond painting provides a relaxing and meditative experience, as well as the satisfaction of creating a true work of art. Indeed, all kits offered on Oraloa are officially licensed with our various artists.
This kit allows you to create a canvas with bewitching colors. Give yourself a moment of relaxation with this simple and fun activity that frees the mind.
Please note:
The diamond painting is an unfinished product, it is an activity to do yourself, with friends or family, by sticking small "diamonds" on a canvas, the final result will be just extraordinary.
What does your kit contain?
Each kit comes with everything you need to get started!
Bruce Kaiser / MGL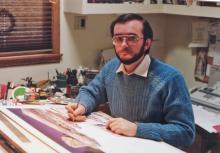 Automotive artist, Bruce Kaiser has had a passion for drawing, sketching designing and painting cars since he could hold a pencil. He loves painting hot rods, drag cars, muscle cars, sports cars, Indy cars, Formula One...any kind of car as long as it's cool, loud and fast. He grew up in the 60s hanging out at the local A&W Drive-In first on his bike and later with his first cars. It was the golden age of Detroit's great muscle cars and the images and sounds of hot cars under the lights at a local hamburger place still influence Bruce today. Bruce strives to capture those perfect summer nights as he remembers them in his paintings. The local drag strip had drag racing Friday nights and he spent many nights there trying to catch the excitement of 60s-70s funny cars and dragsters under the lights on film and now with brush and paint. His paintings feature the great muscle cars and hot rods like GTOs, Camaros, Hemi-Cudas, Novas, Chevelle SS, Mustangs, 32 Ford coupes, Yenko Camaros, Super Bees, 40 Ford Coupes and many more. Bruce likes to show the cars in his paintings as he remembers them as a kid, not as pristine new muscle cars, but as cars that were modified and raced like a SS Chevelle with mags or a 55 Chevy with cut out fenders. Many of his hot rod and muscle car paintings are for sale as limited edition signed and numbered prints.
He began his art career as an advertising artist and graphic designer after graduating from the Art Institute of Boston. After 16 years with a local ad agency, he struck out on his own and currently creates advertising art and illustrations for many street rod, muscle car and race car equipment manufacturers. His commercial art, including cut-a-ways, exploded views, line art and full color illustration has appeared in most major street rod and muscle car enthusiast magazines and his catalog designs have won numerous trade association awards.
The painting process
Bruce's paintings are painted the same size or larger the the finished art print. He likes to paint large so he can capture the details that make his paintings special. Bruce strives to make his paintings as technically accurate as possible and spends a lot of time researching each subject (which is the fun part because he gets to go through his old magazines). The paintings are done using an opaque water color called "Designers Gouache" on a smooth professional illustration board. The smooth illustration board has a very fine tooth that gives a nice texture to the brush strokes yet holds a sharp edge for fine detail. An air brush is used for the smooth blending of a car finish. He uses Designers Gouache because of the bright colors and crisp details that are possible and Bruce loves the 60s automotive advertising art and architectural renderings that were created with it. One drawback to opaque water colors is that it is hard to make changes or correct mistakes.
Bruce began exhibiting his fine art with the first Hot Rod Heritage Fine Art Exhibit in 1986 at the Las Vegas SEMA show, where he has since been a feature artist. He has also been a featured artist at the Gallery Automania Hot Rod Heritage Art Exhibit in Rochester, Michigan. His painting "Jim Hogg County" was the first art ever used on he cover of Street Rodder Magazine. He has also written and illustrated articles that have appeared in Street Rodder and Custom Rodder Magazines. He was commissioned by Group Promotions to do the cover illustration for the book "Road Rockets", one of the titles in a limited edition collection of author Henry Gregor Felsen's famous early 60s teenage Hot Rod novels. He also does automotive design and concept renderings for custom car builders like Posies Rods and Customs.
Bruce also lettered and created graphics and murals for race cars, vans and bike tanks, air brushed the "Chrome" detail on funny car bodies and done hot rod flame jobs "back in the day". In addition to his automotive art, Bruce enjoys creating science fiction and aerospace paintings and has been published in the National Space Society Magazine. He's an avid fan of F1, Indy cars, NASCAR and Drag Racing. He also loves the great American and European classics, sports cars and vintage racing cars. Bruce lives north of Albany, New York with his wife Tina and their two Westie dogs and has a son, Warren. He and his wife enjoy wrenching on their collection of old cars and taking her 67 Rambler Rogue convert (401 and 2-4bbls!) on road trips, shows and cruises.
View other works by the same artist
How to do Diamond Painting?
Become an artist step by step
Be sure to gradually peel off the protective film from the first work area. 
Locate the first symbol in the table you want to work on.

On the side of the canvas, look for the symbol and the corresponding number on the legend.
Identify the color-coded bag of diamonds. 
Gently press the tip of the stylus onto the wax. 
Place the diamond on the corresponding symbol on the canvas.