Description
Based on the same concept as mosaics or paint-by-numbers activities, diamond painting is a creative hobby that involves placing tiny colored "diamonds" on a printed image to create a mosaic painting.

Diamond painting provides a relaxing and meditative experience, as well as the satisfaction of creating a true work of art. Indeed, all kits offered on Oraloa are officially licensed with our various artists.

This kit allows you to create a canvas with bewitching colors. Give yourself a moment of relaxation with this simple and fun activity that frees the mind.


Please note:

The diamond painting is an unfinished product, it is an activity to do yourself, with friends or family, by sticking small "diamonds" on a canvas, the final result will be just extraordinary.

What does your kit contain?

Each kit comes with everything you need to get started!
Nicky Boehme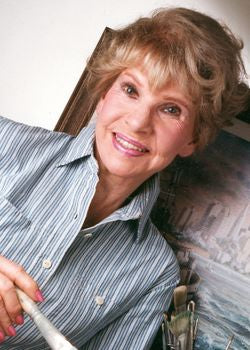 Nicky Boehme, a California native, always knew that painting would be her calling. She has been drawing and painting since she was a child. Nicky received her technical art training at the Oakland Art Institute in California and later became an art director for several national advertising agencies. It was during this time that she received numerous awards for her artwork, prints and posters as an illustrator and graphic designer.
Her years of painting experience have given her knowledge of dramatic lighting and the ability to transport the viewer to a particular place through her artwork, prints and posters. Through the mind's eye, Nicky's Boehme paintings will take you on a romantic adventure, whether it's a small secluded harbor or a refreshing mountain stream.
As an artist member of the American Society of Marine Artists, Nicky Boehme participated in the 8th National Exhibition sponsored by the Mariner's Museum in Newport News, Virginia. Her artwork, prints and posters are in numerous private and corporate collections throughout the country.
View other works by the same artist
How to do Diamond Painting?
Become an artist step by step
Be sure to gradually peel off the protective film from the first work area. 
Locate the first symbol in the table you want to work on.

On the side of the canvas, look for the symbol and the corresponding number on the legend.
Identify the color-coded bag of diamonds. 
Gently press the tip of the stylus onto the wax. 
Place the diamond on the corresponding symbol on the canvas.