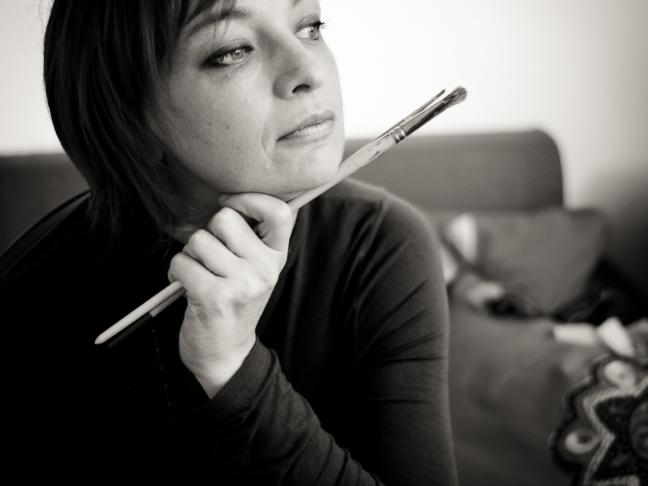 Valérie Moigne aka Misstigri is an independent artist based in Nantes, where she also runs a small boutique.
After a Bac F12 in applied arts and a BTS in interior architecture, she went on to study design at the Beaux-Arts. Despite an attempt at architecture, her passion for images took over and led her to set up as a freelance graphic designer in 2000. Her work being driven by the constraints of her clients, she sought an escape by starting to paint, giving birth to the female characters that would become her trademark "Les Misstinguettes".
Today, as a graphic designer, illustrator and painter, she draws her inspiration from painting, with influences such as Klimt, Mucha, Shiele and Pignon Ernest, as well as from comic strips (Bilal, Manara, Dautremer), fashion (Lacroix, Gaultier, Miyaké, etc.) and animated films (Burton, Miyazaki, etc.).
Her technique begins with a sketch, which she then reproduces on canvas. Like a schoolteacher, she builds up the outline of the drawing with chalk. She shapes, evens out and then erases with the back of her blouse anything that interferes with legibility... The base is in place.
Skin, clothes, hair, then coarse acrylic shading. Precise shadows, volumes and bold pastel shadows. A touch of precision for finishing touches with posca (gouache felt-tip) and 3D paint (tulip). If the damsel comes to life, she embellishes her toilette with feathers, lace or ribbons...
Today, she's a household name, considered a benchmark in her field by many ...