Description
Based on the same concept as mosaics or paint-by-numbers activities, diamond painting is a creative hobby that involves placing tiny colored "diamonds" on a printed image to create a mosaic painting.

Diamond painting provides a relaxing and meditative experience, as well as the satisfaction of creating a true work of art. Indeed, all kits offered on Oraloa are officially licensed with our various artists.

This kit allows you to create a canvas with bewitching colors. Give yourself a moment of relaxation with this simple and fun activity that frees the mind.


Please note:

The diamond painting is an unfinished product, it is an activity to do yourself, with friends or family, by sticking small "diamonds" on a canvas, the final result will be just extraordinary.

What does your kit contain?

Each kit comes with everything you need to get started!
Julie Courchesne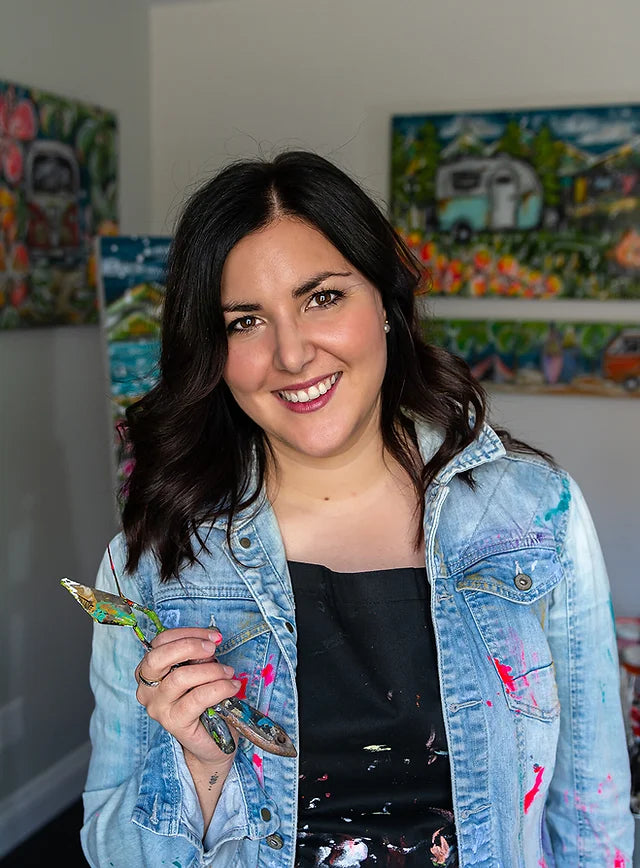 Julie Courchesne draws her inspiration from life's simple pleasures. She creates works that evoke the memory of an era and that make you smile. Moreover, the combination of drawing and painting brings a singular perspective to her paintings. All of her works have a light, sketchy feel to them and they come to life with vibrant colors and unique textures.

Art has been a part of Julie's life since she was a child and it was during her high school years that she took her first oil painting classes. With time and university studies, art and painting were temporarily put aside. However, as soon as she completed her courses she returned to her passion and explored a new medium, acrylics, which she still uses today.

For Julie, her real breakthrough came from a visit to an art gallery in Quebec City in 2013. She was immediately drawn to this artistic field. From then on, painting would take a very special place in her life. Since then, she uses a self-taught method and paints on a daily basis.

Julie is a passionate artist for whom a life without painting would be unimaginable, grey and empty. Art gives her a balance in her daily life and she uses this attachment to free her creativity and express her emotions. This flame, which art represents in her eyes, allows her to escape, to stop time and to live fully the present moment.
View other works by the same artist
How to do Diamond Painting?
Become an artist step by step
Be sure to gradually peel off the protective film from the first work area. 
Locate the first symbol in the table you want to work on.

On the side of the canvas, look for the symbol and the corresponding number on the legend.
Identify the color-coded bag of diamonds. 
Gently press the tip of the stylus onto the wax. 
Place the diamond on the corresponding symbol on the canvas.