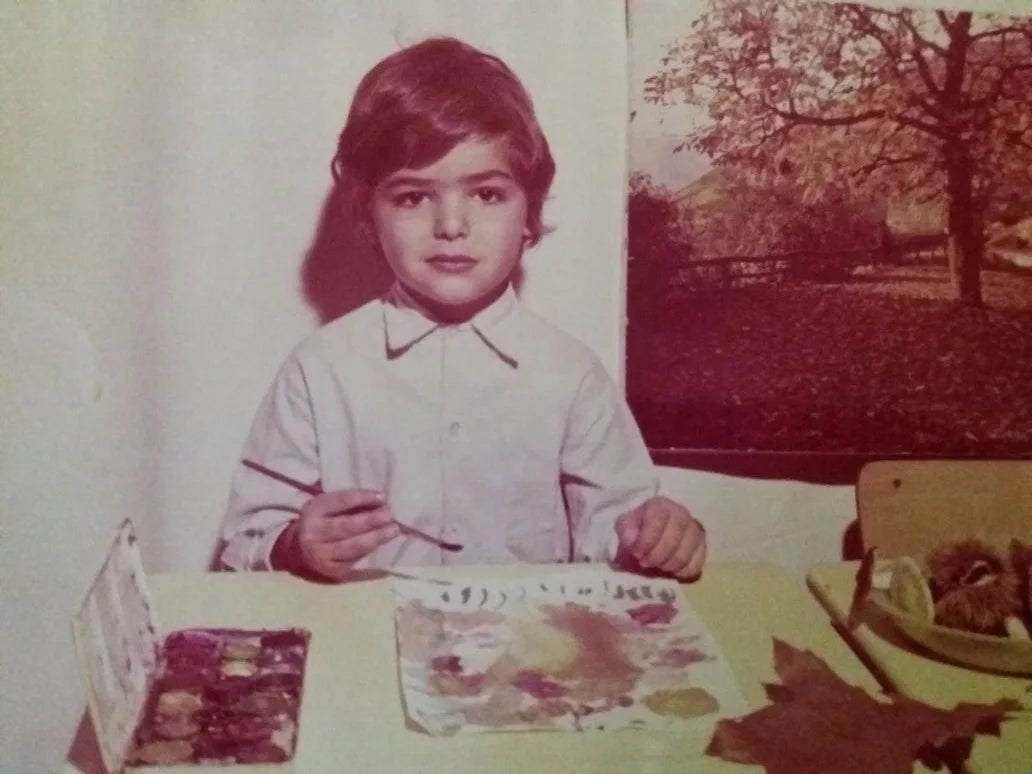 Born in France in Toulouse, the pink city, to Hananiah Abergel and Esther Malka (née Berdah). Second of three children.
Until his teenage years he lived in the countryside in St Ferréol. At the age of 12, his mother made him take violin lessons which he followed for two years, but he decided to stop music to devote himself to drawing and painting. His father, who was a furniture and antiques dealer and an art enthusiast, encouraged him to develop his taste for drawing. At the age of 12, he offered him an easel. This relationship that was born between them, that of an admirer of painters and a budding painter eager for advice and knowledge, continued throughout their lives.
At the age of 14, following the divorce of his parents, he left to live with his mother and two sisters in Toulouse. During this period he discovered the comic strip to which he will not cease to devote himself until the age of 22 years. During the years in Toulouse he searched for himself a lot, and in addition to a passion for photography and cinema he started to be interested in painting. After starting his scientific studies, he finally obtained an artistic baccalaureate which led him to enroll in the School of Architecture where he studied for two years. Before passing his exams to enter the third year he decided to abandon his studies and go to the St Luc school in Brussels, to the school of cartoon. During this period he discovers contemporary art and contemporary artists and decides to stop the comic book to devote himself to contemporary art.
He left to live in Italy, in Florence, in order to enroll in a painting school. When he enrolled, the director of the school, in view of his work, told him that he would be wasting his time studying and that the time had come to start living. He listened to his advice and began a solitary journey. After a year spent in Florence, he left the "Dolce Vita" to return to Toulouse where he passed the Beaux-Arts exam, but only stayed a few months at the Beaux-Arts, which he finally left to devote himself to painting. During his brief stay at the Beaux-Arts of Toulouse, he met Annie Merle who saw his work and chose him among the artists to whom she dedicated a book that she published entitled: "the painters of the Toulouse school".
Until the age of 27, he never stopped working, painting and drawing without ever managing to integrate himself into an artistic milieu, whether in the world of galleries or in the milieu of painters. Although he did not manage to exhibit his work, he continued his research. He was 27 years old and decided to earn a real living. His parents, who work in the furniture business, help him to become a salesman. At first he worked in his father's store, then his mother brought him with her to teach him the trade. After a difficult start, he acquired a good foundation that allowed him to leave and work alone in a store in Paris. He worked there for 3 years. During this period he continued to draw, mostly on the blocks used for sales. He painted a few pictures and made many drawings of the streets of Paris on his days off.
His older sister, who at that time had become a nun, sent him books on the deeper part of the Torah, on Chassidism, Habad and the Rebbe of Lubavitch.
During the vacations he made a trip to Tahiti and Bora Bora. This trip was to be decisive in his life because it reawakened his desire to paint and create to the point where, following this trip, he decided to resign from his job as a salesman to devote himself to painting. He then travels to Montreal, Canada to visit his younger sister who has been living there for some time. There he met Haim Sherff, an Israeli religious painter living in Montreal, who made him aware of the importance of being attached to one's roots and recommended that he become more religious by studying the Torah. Indeed, according to him, Art cannot be dissociated from the divine spirit expressed in the Torah. Yaakov listened to these recommendations and began a religious journey in parallel with his work as an artist, under the influence of the Master of Hasidism, the Rebbe of Loubavitch.
His new habits naturally lead him to pray every morning at the Synagogue of the Rue Pallaprat where the great Rabbi Eliahou Haik also prays, and on Shabbath at the Synagogue of the Rabbi's Shalia'h in Toulouse: Rav Yossef-Itz'hak Matusof, who was the first to introduce him to the Rabbi and to the Hasidic world. It was during this period that he discovered the book of Tanya with Rav Gabriel Sebagh. He also studied Chassidut Habad with Rav Israel Zerdun.
He returns to live in Toulouse. His mother met Dany Simon, who owned an art gallery and organized his first exhibition of works inspired by the religious world.
It was at this time that he met Liba through David and Edith Hagège, friends of his older sister, and married her on June 22, 1997 in Lyon. A year after his marriage the couple decided to join Yaakov's sister and her husband Samuel Marquès who had been living in Israel for a year and settled in Jerusalem.
He spends less and less time painting and drawing because he devotes himself to the study of Torah, first at the Yeshiva of Rav Chai Barkats and then especially at the Kollel of Rav Shimon Elitouv under the direction of Rav Avraham Kot. He spent 4 years at the Kollel and obtained his rabbinical ordination from Rav Itz'hak Yehudah Yeruslavski. It was during this period that he met a person who was to be a determining factor in his life, Rav Ytz'hak-Tsvi Eizenbakh, with whom he studied Chassidut for many years, particularly the book of Tanya. He attended many courses in Chassidut, including courses given by Rav Aaron-Mordechi Zilberstraum, Rav Chmuel Weinfeld, Rav Chneor-Zalman Gopin, Rav Avraham-Barukh Pevzner and Rav Moshe Weiner. He is especially attached to Rav Yosef-Itz'hak Offen whose courses he follows to this day.
His artistic taste naturally led him to study Sofrut in Bneï Brak with Rav Gerschtenkorn, who was recommended to him by Rav Moché Landau. He obtained the Smi'ha of Sofer from Rav Yeruslavski, which allowed him to practice the profession of Sofer until today by writing the Ktav of the Admur Hazaken.
He also obtained a Smi'ha of Cho'heth from Rav Shimon Elitouv, but apart from the Kapparoth that he did with his friend from the Kollel, Rav Yaakov Cho'hat, he did not practice this profession.
In 2000, his daughter 'Haya-Mushka was born in Jerusalem on Purim Katan.
He changed Kollel and began to study dayanut at Kollel 'Ariel' until today, with Rav Moché Pinder. He devoted himself more and more to painting and painted many portraits of the Masters of Habad. His work became more and more diversified and he began a series of seascapes on wooden pallets.
In parallel with his studies and artistic work, he devoted much time to writing books based on the teachings of the Masters of Habad and the Rebbe, and in particular on the essence of the soul. This subject will never leave him. He published 3 books.
In 2009, his two sons were born on Lag Ba Omer.
He continued writing a novel that he had started a few years earlier, bringing together memories of his travels (in particular his trip to Bora-Bora) and reflections on teshuvah. His work is entitled "Colors in the Veins" and reveals his passion for Art.
His sister organized an exhibition of his paintings in Raanana in the "Merkaz Giron" gallery. He was given the opportunity to present in large paintings a small overview of his work based essentially on the Chassidic world.
He then met Yaakov Benhaim and Moché Krieger from the magazine Meteor LeMag who devoted a video to this occasion. This meeting marked the beginning of a collaboration from which the realization of videos of Torah and Chassidut courses was born.
The diffusion of the sources of the Chassidut is at the center of his concerns and while continuing his studies he gives many courses around him. His artistic activity intensified and an incalculable number of drawings were added to his paintings.
His friend Nissim Belma put him in contact with his brother Elie, with whom he designed a website whose objective was to make his artistic work known and to spread the Sources of the Chassidut outside.
Since his exhibition in Raanana, he has taken the habit of writing excerpts from the Chassidic speeches of the Rebbe of Loubavitch on his paintings. Mixing words with images, the painter seems to be able to express his love for painting and writing which he unites on his canvases.
"You probably know that the quality of a painter consists in hiding the external aspect of an object, forgetting its contours, in order to penetrate it, to seize its deep aspect and its essence, in order to express it through his canvas. Thus, the one who contemplates it will perceive what he had not noticed before, when the inner part was hidden by accessory elements."
Rabbi of Lubavitch