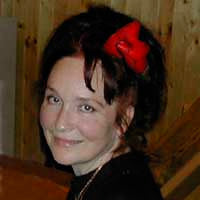 The artist Nadezhda Strelkina was born and raised in the village of Fedoskino near Moscow. Strelkina is her surname in marriage, and in girlhood she is Burbysheva. The Burbyshev family gave several generations of famous Fedoskino artists. At the turn of the 19th and 20th centuries, Nadezhda's great-grandfather owned a small factory called Burbyshevskaya Workshop, which produced painted lacquer snuff boxes, silver cigarette cases, cups, etc. The 1917 revolution made private entrepreneurship impossible and the "Burbyshevs' workshop" closed down. However, the dynasty of Burbyshev Zakhar Timofeevich was continued by his sons, Semyon and Dmitry, who were the leading artists of the Fedoskino artel in Soviet times. Nadezhda Strelkina's father, Viktor Semyonovich Burbyshev, was among the best artists of the Fedoskino factory of miniature painting and worked there for over 40 years. Having graduated from the Fedoskino school of miniature painting Nadezhda also continued the dynasty of artists.
Her talent for painting manifested itself very early. She considers her main teachers in art to be the old classical masters. Inspired by them, as well as by old Russian fairy-tale and spiritual legends, she creates images that awaken kind and bright feelings in the viewer. Nadezhda's artistic style is unique and makes her works immediately recognizable. The manner of her writing is very delicate and is famous for the soft, delicate depiction of faces as if glowing from within. This is the embodiment of the Russian ideal of female beauty. Nadezhda Strelkina's artworks are in the Museum of the Fedoskino Factory, and in many private collections in Russia and abroad. In 1997, Nadezhda's arts were licensed in the United States and immediately gained immense popularity. The largest souvenir company "The Bradford Exchange" released a series of music boxes, porcelain plates, Christmas tree decorations, etc. called "Symphony of Angels". For this series, Nadezhda was awarded the "New Name of the Year" crystal cup.
And since that time Nadezhda has been cooperating with various companies. Her artworks can be seen on various products (postcards, calendars, puzzles, Christmas tree decorations, collectible plates, music boxes, etc.) in virtually any country in the world. Thanks to the opportunity to earn money selling her images for licensing, Nadezhda was able not to sell the originals of her artworks and, having accumulated a large collection, was able to fulfill her old dream - to open her own private museum in the homeland of Russian lacquer boxes in the famous village of Fedoskino. The museum's collection includes more than 40 works of lacquer miniatures (boxes, caskets, wall panels), created by Nadezhda for the last 20 years.