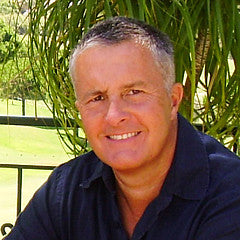 I began painting in pastel in 1985 as a natural progression from drawing, which I had been doing for as long as I could remember. Two years later, I moved to the Cayman Islands, where I lived with my family for fourteen years. The colors of the Caribbean stimulated my artistic senses and invited me to capture the turquoise sea and bright pink bougainvillea on paper and canvas. The Cayman Islands art community welcomed me, private collectors and institutions purchased my work, and I participated in numerous visual arts exhibitions and group shows, winning several awards. The Cayman Islands is a British dependent territory and my status in the art community has given me the opportunity and honor to meet members of the Royal Family.
I began using acrylics towards the end of my time in the Cayman Islands, and now that I live in England, I paint almost exclusively with this technique. Acrylics combine the strength of color with technical simplicity, and because of their durability, I know that when I ship originals around the world, they will arrive in perfect condition.
One of the advantages of living in Europe is being able to travel to countries like Italy and France. I feel fortunate to have been able to paint some pastoral scenes from Tuscany and Provence in between my more typically tropical works for galleries in the Caribbean and collectors in the United States.
In 2013, I began painting scenes of Kauai, to be exhibited and sold through the Palms Gallery. It was a great privilege for me to be selected to be the gallery's first international artist, and there can be no better inspiration for an artist than to have the most naturally beautiful landscapes on the planet as their subject matter, and a gallery in the midst of it all where their work can be displayed and enjoyed. Today, my days begin with a blank canvas in front of me and images of stunning waterfalls, rugged mountains, pristine beaches and swaying palm trees just waiting to be painted.