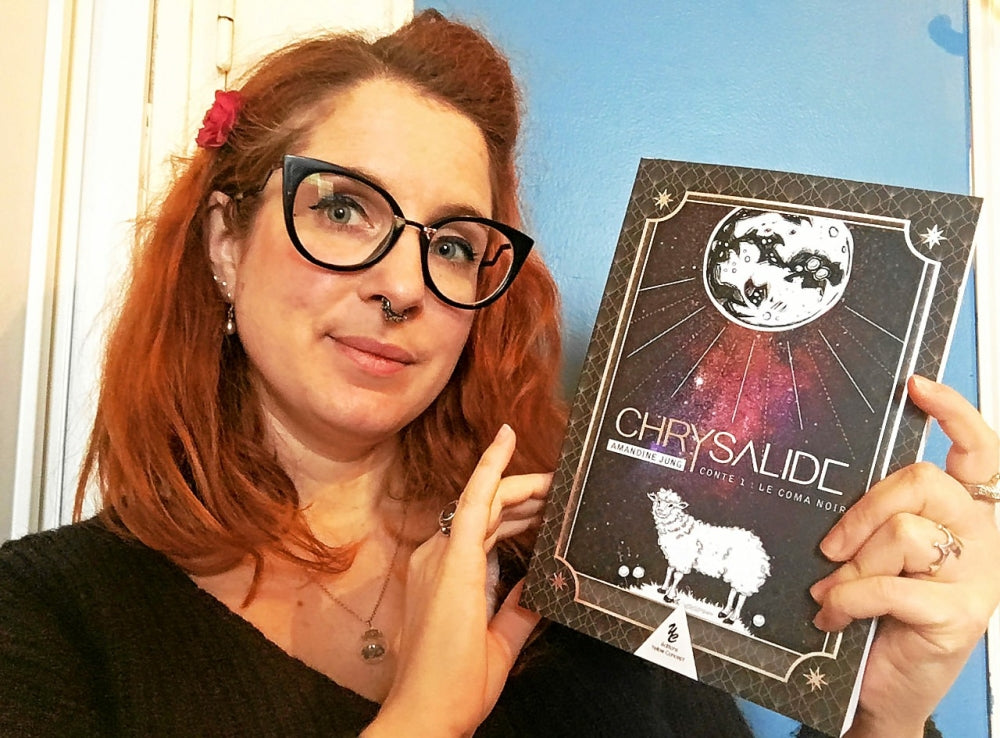 AMANDINE JUNG, MUCH MORE THAN COLORING, AN ADVENTURE, SHARING AND A TOUCH OF ENCHANTMENT...
Born in 1987, in Brittany, in the land of fairies and korrigans, Amandine Jung is enchanted by tales and legends, wacky nursery rhymes, and cartoons of all kinds. She keeps her childlike soul in a world that she imagines dark and poetic. In her imagination, the sun can disappear to make way for the moon, Snow White can bite into a pearl apple, and a little shrew flies curiously through the sky. Going from a simple image in her head to giving it form is a difficult creative process. Amandine plays with the paint, the lines and her ideas. She feeds off the smallest word, a tiny note of music, a sweet spicy smell, the sound of rain falling on the ground, the autumn leaves singing in the Breton forests, the moon that makes her dreamy, the simplest image and her overflowing imagination does the rest.
Since 2018, the artist has ventured into the world of coloring and unveiled a new talent for making coloring books for adults. In 2020 comes out his first book "Snow White, the Poisoned Princess", followed in 2021 by "Cinderella and the Halloween Ball", in 2022 "Pinups, Hors série 2022" marks the beginning of his consecration, his name begins to resonate everywhere.
In October 2022, for Halloween, Amandine Jung offers a brand new adventure with her first novel "Chrysalide, Conte 1 : Le Coma Noir". She takes us on a journey through a poetic and fantastic tale in the Moon Kingdom, a sunless world dominated by eternal night.
November 2022, in her third coloring book, Amandine Jung dives into the famous tale of Hans Christian Andersen. This time, it is between land and sea that Amandine invites us to travel. Through her illustrations, imprinted with her unique and dreamlike vision, rediscover this wonderful tale of our childhood: "The Little Mermaid". Page after page, while brushes and pencils dance, relive the bewitching and tragic story of the little Ondine, which inspired many writings, from yesterday to today.