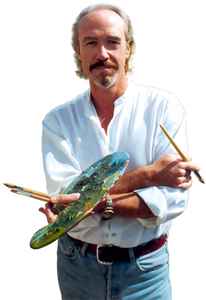 Adrian Chesterman studied fine art at the Norwich School of Art and illustration at the Royal College of Art in Kensington, London. Since leaving the R.C.A., Chesterman has worked in almost every aspect of the art world.
As an illustrator, he has worked for just about everyone, on just about everything, just about everywhere. Advertising illustrations for "Jurassic Park" for Stephen Spielberg in Los Angeles, the sets for "Sunset Boulevard" for Andrew Lloyd-Weber in Frankfurt. Advertising commissions include "Coca Cola" in Atlanta, "Southern Sun hotels" in Cape Town and video game illustrations for "Nintendo" in Chicago. Designs and visualizations for original theme parks in the United Arab Emirates and China, "Spiderman" games for MGA in Los Angeles, and in the last ten years, Rolls Royce's Aero-Engine Division in London asked him to illustrate nearly 50 pages for "Flight" magazine.
Recent projects include the creation of the gigantic illustration of the world's largest puzzle, commissioned by Educa Boras in Barcelona. At an incredible 33,600 pieces and measuring 2 by 6 meters, it depicts a jungle scene full of detail. We also created a series of covers for the "Armchair Reader" paperback series published by Publications International in Illinois, as well as all 21 covers for the "Famous Five", the classic series by Enid Blighton. Saatchi & Saatchi's in Sidney just commissioned a series of Toyota Landcruiser illustrations for the 2015 Sidney Auto Show, and Seaworld in the U.S. just commissioned a poster for its new "Turtle World" theme water park in San Diego.
Chesterman has also illustrated book covers for Jackie Collins, Jack Higgins and Dick Francis, numerous children's books about dinosaurs and an illustrated children's encyclopedia. He has illustrated countless music album covers, including "Bomber" for Motorhead, "The meaning of Life" for the Monty Python team and "The Road to Hell" for Chris Rea. He also illustrated an animated video for "Baby's coming back" by the Eurythmics and even built and painted a real skull guitar for the new romantic band "Adam and the Ants".
Portraiture is another of Chesterman's artistic directions. Previous commissioners include Prince Adan Czartoryski-Bourbon, cousin of King Juan Carlos of Spain, Mikael Baryshnikov, the ballet dancer, a certain captain of the Welsh Guard, some Hollywood actors, countless children, cats, dogs and a horse named George. Oh... and a nude portrait of "Wolf", the TV "gladiator", who somehow ended up on page 5 of a national newspaper, but the less said the better!
Chesterman had his first exhibition of paintings at Liberty's in Regent Street while still at the Royal College of Art, and went on to show at the Centre Pompidou in Paris and Gallerie Schémes in Lille, France, the International Contemporary Art Fair in Olympia, Spinks, Kensington Town Hall and BBC Centre in London, Batey Gallery in Singapore, Madison Gallery in Los Angeles, and many countries in Spain. He has participated in The Riverside Show, 01 for London, Artrage and other art programs in the UK, as well as television programs in Spain.